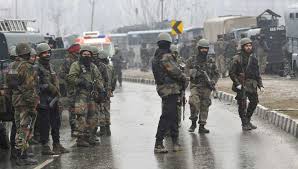 Washington DC: In response to one of the deadliest terror attacks in Kashmir in decades in which 44 paramilitary soldiers of the Central Reserve Police Force (CRPF) were killed, USINPAC issued immediate support for India.
"We are united in issuing our heartfelt condolences and in condemning this cowardly act," SanjayPuri, Chairman of USINPAC said. "We especially stand with PM Narendra Modi for his decisive leadership, and we thank the US for standing with us."
"We stand with India as it confronts terrorism," US Secretary of State Mike Pompeo said on Twitter. Calling out Pakistan, Pompeo said, "Pakistan must not provide safe haven for terrorists to threaten international security."
White House Press Secretary Sarah Sanders said, "The United States calls on Pakistan to end immediately the support and safe haven provided to all terrorist groups operating on its soil, whose only goal is to sow chaos, violence, and terror in the region."
US National Security Adviser John Bolton told his counterpart Ajit Doval that the US would help bring those responsible for the attack to justice. They resolved to hold Pakistan responsible for its obligations under UN resolutions
Finance Minister Arun Jaitley announced that those responsible for the egregious attack would be given "an unforgettable lesson." India will withdraw Pakistan's most favored nation trade status and will "ensure" Pakistan's "complete isolation," Jaitley said.
The United States has made it clear that it supports India's right to defend itself. Pakistan has denied involvement. But PM Modi has vowed a strong response to the Kashmir attack, giving "total freedom" to government forces to deal with the militants.
For years, India has told of Pakistan backing militants in Pakistan, and USINPAC has stood shoulder to shoulder in bringing this matter to the attention of Capitol Hill, going as far as having legislation introduced and passed in the House calling for greater accountability. "USINPAC continues to call upon all Members of Congress to get real about this issue," Puri said, "and also to issue the strongest statements possible in support of India at this time."
About USINPAC:
USINPAC is a bi-partisan organization and the voice of over 3.2 million Indian Americans. We connect our members to candidates of their choice. During the 2020 election cycle, we will be hosting events across the country to make sure Indian Americans are heard. If you would like to be part of this historic effort and bring about outcomes that matter, sign up for our email updates and get involved today @ www.usinpac.com