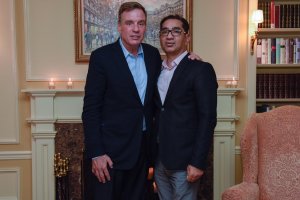 Washington DC:Sanjay Puri, Chairman of USINPAC and longtime friend of Senator Mark Warner (D-VA), co-hosted a fundraising event for the Senator in New York City on September 8, 2019. Senator Warner is the co-chair of the Senate India Caucus, a bipartisan coalition that promotes US-India relations across a broad spectrum of interests.
"Senator Warner has been a good friend of India," Puri said, "and I am pleased that we had another opportunity to discuss the current state of relations between the United States and India, and also the upcoming visit of PM Modi, and its significance."
"As has been said many times before, the US-India relationship should be one of the most defining of the 21st century, and we really need to be about the business of deepening relations," Puri continued. "This includes emphasizing trade and technology transfer, and a watchful eye on what is happening in Kashmir. The territorial integrity of India must be respected."
"I commend Senator Warner for being a fair and honest broker when it comes to US-India relations, and look forward to our continued work for and on behalf of India and Indian Americans," Puri concluded.
About USINPAC: USINPAC is a bi-partisan organization a voice of over 3.2 million Indian Americans. We connect our members to candidates of their choice. During the 2020 election cycle, we will be hosting events across the country to make sure Indian Americans are heard. If you would like to be part of this historic effort and bring about outcomes that matter, sign up for our email updates and get involved today at today at www.usinpac.com