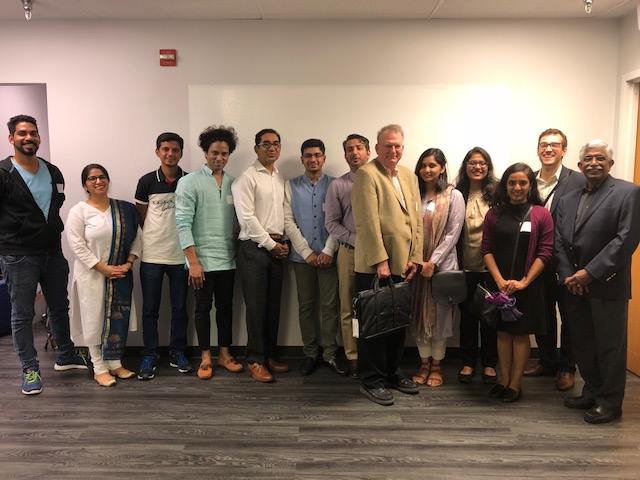 USINPAC recently hosted a reception for a visiting delegation of social entrepreneurs from India. The delegation included young members with impressive track records in mobilizing innovative and sustainable solutions to address social, educational and environmental issues across India by raising capital and resources through techniques employed by business entrepreneurs.
Attendees of the reception included Ms. Palak Aggarwal, CEO of The Batti Ghar Foundation, which brings simple technologies to rural and tribal populations by providing access to basic services; Mr. Dhruv Lakara, CEO of Miracle Couriers, which provides livelihoods for the deaf by training them in courier services for companies like Amazon.com; Mr. Suresh Raju Pathapati, President of Vaada Foundation, which provides public education on road safety and accident prevention; Mr. Rajneil Kamath, Co-Founder of Glance Media Technologies, which creates positive online messaging and content marketing for government and private entities and also educates the public on issues like indoor pollution; Ms. Gauri Mahendra, Founder of Umeed, which empowers women in Hyderabad through skill building, workshops and training in business methods; Mr. Ashworth Vaz, Head of Marketing & Strategy, United Way of India, which focuses on health, sanitation and hygiene issues especially for young girls, and sports for social development; and Mr. John Francis Shyam Jude, Founder & CEO of Analog and Digital Labs, which emphasizes road safety and accident prevention education. Other leading Indian Americans from the surrounding region also participated.
Discussions centered on cultural and investment challenges faced by young entrepreneurs when engaging in social enterprise initiatives in India. Many were interested in exploring how USINPAC could facilitate networking and initiatives between India and the U.S. Mr. Puri, Chairman of USINPAC, commended the delegation members for their impressive and outstanding work. "When I see young people with so much energy and intelligent solutions for solving persistent issues plaguing the vulnerable populations," he said, "I have much hope for the future of India. India also ranks as the accident capital of the world and it is imperative that we make safety the number one priority." He assured participants that USINPAC would continue to foster dialogue and support for all such social engagement and endeavors.
About USINPAC:
The US India Political Action Committee (USINPAC) is the voice of over 3.2 million Indian- Americans and works on issues that concern the community. It supports candidates for local, state and federal office and encourages political participation by the Indian- American community.
Visit www.usinpac.com for more details.