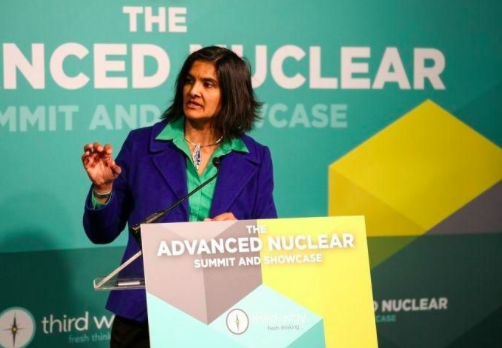 Washington D.C. : US President Donald Trump has nominated Rita Baranwal, a top Indian-American nuclear expert, to be Assistant Secretary of Nuclear Energy for the Department of Energy. This appointment comes in the wake of a new legislation (Nuclear Energy Innovation Capabilities Act) signed by President Trump to speed up the development of advanced reactors. If confirmed by the Senate, Baranwal would be responsible for the Department of Energy's nuclear technology research as well as the management of the department's nuclear technology infrastructure.
Baranwal received her undergraduate degree in Materials Science and Engineering from MIT and her Ph.D. in Materials Engineering from the University of Michigan. She has served as the Director of Technology Development and Application at Westinghouse and was a manager in Materials Technology at Bechtel Bettis where she headed the research and development of nuclear fuels for US naval reactors. She also serves on advisory boards for the Materials Research Laboratory at MIT and for the Nuclear Engineering Department at the University of California, Berkeley. Currently, she serves as the Director of the Gateway for Accelerated Innovation in the Nuclear initiative (GAIN).
Baranwal has high expectations for the United States nuclear industry and believes it is equipped to become a leader in the global nuclear sector, including the deployment of new and innovative nuclear technologies that support clean energy. When asked about Baranwal's nomination, Senator James E. Risch of Idaho, who strongly supported her candidacy stated, I know Dr. Baranwal will make Idaho proud.
About USINPAC:
The U.S.-India Political Action Committee (USINPAC) is a nonprofit, nonpartisan organization that represents the interests of more than 3.2 million Indian-Americans. USINPAC leverages the smart power of the community to bring about outcomes that matter at federal, state and local levels of government and provides support to candidates and lawmakers who share the community's concerns. Founded in 2002, USINPAC has a successful track record of supporting and opposing legislation independently, as well as working with issue-based coalitions. USINPAC proudly serves as a resource for Congress, the Administration and for Indian-Americans at home and abroad. For more information, please visit www.usinpac.com for more details.