Ever since Satya Nadella became only the third chief executive of Microsoft, the Indian community in Silicon Valley has been bubbling over with pride and going hoarse cheering over the elevation of an Indian to the top of the fourth-largest company in the world by market capitalization. That his appointment would generate such excitement and frenzy might seem surprising at first. After all, Indians have over the years become a force in Silicon Valley, where about 15% of tech start-ups have Indian founders. Yet Nadella's appointment is being hailed by Indians as something more. It's another giant leap forward to have their own running one of the world's most important companies. And he'll be stepping into the shoes of Bill Gates, one of the world's most famous names, to run a company for which Indians have a special affection.
But the most important question to ask is if there is anything to learn from the rise of that man called Satya Nadella?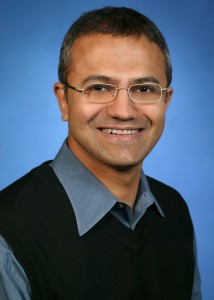 Let's face it; Microsoft is full of brainy graduates who are alumnus of India's premier institutions besides graduates of the best schools of many other countries. Yet, it was Nadella, from a relatively humble Manipal Institute of Technology, who has been chosen to lead Microsoft at a crucial time. Not that his engineering skills were ever in doubt, rather it is his non-engineering talents which have helped him pole vault over droves of other talented nerds.
Tracing his story, young Satya, was an all-rounder at school. He played a lot of cricket, played pranks, loved music, was a champion debater and a good student, but not at the top of his class. But then, technical knowledge has always been his forte – Nadella has made Microsoft pose serious competition to Amazon's cloud with its cloud platform Azure, ever since he started heading the cloud platform of the Company in 2013. The Azure cloud platform supports the services of Microsoft such as Bing, Xbox live, Office 365 and Windows Azure. Nadella led Microsoft's server and tools division prior to his stint with cloud and engineering enterprise. So the journey of his life at Microsoft just goes to show that the stereotype of the hardworking Indian American has evolved and they are the ones ushering in a new voice. They are everywhere-as rappers, musicians, sportsmen and politicians. As a group, Indian Americans comprise the wealthiest and most educated single community in the U.S., a position of societal prestige that may last for some time yet — a recent survey found that no ethnic group in the U.S. saves more for their children's college education than Indian Americans do. So a success story like Satya Nadella is definitely not a bolt from the blue but nevertheless, it is an inspiration.
He truly believes in Microsoft's power to bring in change – In his first E Mail to the employees he reiterates "for the same reason I think most people join Microsoft – to change the world through technology that empowers people to do amazing things. "Many companies aspire to change the world. But very few have all the elements required: talent, resources and perseverance. Microsoft has proven that it has all three in abundance."
I would like to end Satya's story with a quote from Oscar Wilde which truly inspires us to believe that success does not have a religion, nationality or color. "We need to believe in the impossible and remove the improbable".