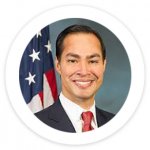 Julian Castro served as the U.S. Secretary of Housing and Urban Development under President Barack Obama, the youngest member of Obama's cabinet. Prior, he served as the Mayor of San Antonio. He was mentioned as a running mate for Hillary Clinton during the 2016 Presidential campaign. Julian is the twin brother of Congressman Joaquin Castro.
Julian and Joaquin's mom, Rosie, was the first Chicana to run for San Antonio city council. As a single mom, she taught Julian and Joaquin that if you want to make change happen – you don't wait, you work. Julian went to law school. In two generations, after his grandmother arrived in the U.S. with nothing, his brother became a Member of Congress and he had the honor of serving in Obama's cabinet.
Julian believes in working towards the promise. He believes in the promise of a future where young people don't have crushing college debt, where seniors can count on a life of dignity, where veterans are respected and honored, and people of color are safe and welcome.
To learn more about Julian Castro or to join his campaign, please visit at here.