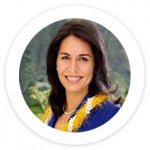 Tulsi Gabbard was first elected to the U.S. House of Representatives in 2012. She currently serves on the House Armed Services Committee and the House Financial Services Committee.
Gabbard served two tours of duty in the Middle East as a member of the Hawaii National Guard. She was elected to the Hawaii State Legislature in 2002, when she was just 21 years old. She is the first Hindu to serve in the U.S. Congress.
Now in her fourth term, Congresswoman Gabbard focuses on veterans, service members, national security, housing policies, and the nation's financial and banking policies. She is working to make sure all Americans have access to affordable heath care, good jobs, and quality education.
To learn more about Congresswoman Gabbard, follow her in the U.S. House of Representatives at here
To follow her presidential campaign, follow her on Facebook at here