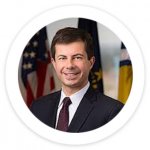 Pete Buttigieg is the Mayor of South Bend, Indiana. He is a graduate of Harvard, a Rhodes Scholar, and a veteran of the Afghanistan war.
He is running for President because he believes his story and experience are what is needed to beat President Donald J. Trump. Buttigieg supports the premise of the Green New Deal and would like to raise taxes on the wealthiest Americans who he says "do not pay their fair share." The New Yorker featured his "quiet rebellion" in a feature on February 9, 2019, suggesting he is sharply breaking with the past.
For more about his views and platform, or to join his campaign, follow him on Facebook at https://www.facebook.com/mayorpeteforpresident2020/.