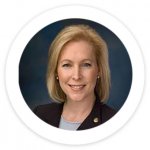 Kirsten Gillibrand served in the U.S. House of Representatives from 2007 to 2009, when she resigned to become a U.S. Senator, appointed to fill the vacancy caused by the resignation of Hillary Clinton. She was elected in 2010 in a special election and re-elected in 2012 and again in 2018. In the Senate, she serves on the Armed Services Committee, the Agriculture Committee, the Special Committee on Aging, and the Senate Committee on Environment and Public Works.
Senator Gillibrand has been a vocal advocate for America's armed services, national security and military readiness. She introduced a bill to keep guns out of the hands of criminals and make gun trafficking a federal crime. She has led efforts to repeal the "Don't Ask Don't Tell" policy, to reform the justice system for sexual assault survivors in the military and on college campuses, and to compensate 9/11 first responders and community survivors sickened by the toxins at Ground Zero. She has also fought for farmers and agricultural producers. She is committed to protecting the environment, addressing climate change, helping the elderly, and rebuilding the economy. She was also the first Member of Congress ever to post her official daily meetings, earmarks, and personal financial disclosures online.
Gillibrand earned her law degree from the UCLA School of Law, and was a magna cum laude graduate of Dartmouth College. She served as Special Counsel to Secretary of Housing and Urban Development (HUD) Andrew Cuomo during the Clinton Administration.
To learn more about Senator Gillibrand, follow her in the U.S. Senate at here
To join her campaign, add your name at here