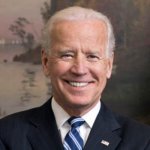 Vice President Joe Biden is the 47th Vice President of the United States (2009 – 2017) and also served as a United States Senator from 1973 to 2009. He once served as the Chair of the Senate Foreign Relations Committee and also served as Chair of the Senate Judiciary Committee.
Vice President Biden was born and raised in Scranton, Pennsylvania. He studied at the University of Delaware before receiving his law degree from Syracuse University.
Vice President Biden's campaign is focused on building back better. He believes there is a tale of two tax policies. Trump's rewards wealth, Biden's rewards work. Building back better also means jobs and economic recovery for working families, racial equality across the American economy along with a sustainable infrastructure and a clean energy future. He also proposes protecting and building on the Affordable Care Act (Obamacare) instead of switching to a Medicare for all system.
To learn more about Vice President Biden, or to join his campaign, visit here