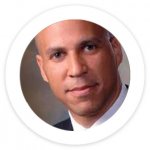 Cory Booker won a special election in 2013 to represent New Jersey in the U.S. Senate. In 2014, he was re-elected.
In the Senate, he serves on the Committee on Foreign Relations, the Committee on the Judiciary, the Committee on Small Business and Entrepreneurship, and the Committee on Environment and Public Works.
Booker was elected to the Newark City Council when he was 29-years old. He served as the Mayor of Newark for more than seven years. He received his undergraduate degree from Stanford, and was also awarded a Rhodes Scholarship. He went on to study at Oxford where he received an honors degree in History. He completed his education at Yale Law School.
He pushes for criminal justice reform, small business investment, greater economic competitiveness, increased educational opportunities, affordable housing, civil rights, workforce development, health care, and new green deals.
To learn more about Senator Booker, follow him in the U.S. Senate at here
To join his campaign, add your name at here