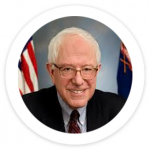 Bernie Sanders is the longest-serving independent in Congress. He was elected to the U.S. House of Representative in 1990. In 2006, he was elected to the Senate. In 2015, he sparked a "political revolution" while seeking the presidential nomination for the Democratic Party. He ran on a platform that focused on inequality, increasing tax rates for the wealthy, expanding the Social Security, Medicare and Medicaid systems, tuition-free public colleges and universities, taking corporate money out of politics, and balancing wage disparity.
His campaign relied mostly on individual donations rather than Super PACs. It was reported that he received 3.7 million contributions from some 1.3 million individual contributors, averaging $27 a person. He broke records – even surpassing President Obama's fundraising record for his 2011 reelection bid. His Michigan primary victory, in which he upset Hillary Clinton, is considered to be one of the biggest upsets in political history.
Sanders grew up in Brooklyn, the son of Jewish immigrants from Poland. He was part of the civil rights movement during his university days. He attended the University of Chicago. After graduating with a degree in political science, he lived on a kibbutz in Israel before settling in Vermont.
In the Senate, Sanders serves on the Committees on Environment and Public Works; Energy and Natural Resources; Health, Education, Labor, and Pensions; Budget; and Veterans' Affairs. He has announced he is running for the 2020 Democratic Presidential nomination to complete the revolution.
To learn more about Senator Sanders, follow him in the U.S. Senate at here
To join his campaign, add your name at here