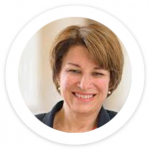 Amy Klobuchar is the first woman elected to represent the State of Minnesota in the U.S. Senate. She was elected in
Her father was a miner; her mother an elementary school teacher. Klobuchar graduated magna cum laude from Yale University and the University of Chicago Law School. The New York Times described her as a "former prosecutor with made-for-state-fair charms." Working Mother Magazine named her as "Best in Congress" for her efforts on behalf of working families.
In the Senate, she serves on the Committee on Agriculture, the Joint Economic Committee and the Senate Commerce Committee. She also serves on the Judiciary Committee and as the Ranking Member of the Judiciary Subcommittee on Antitrust, Competition Policy and Consumer Rights.
She fights for service members, veterans, to end human trafficking and to combat the opioid epidemic. She also supports consumer-friendly policies. She advocates for small businesses, leads initiatives to boost American tourism, and works to lower prescription drug costs.
She is running for President to "heal the heart of our democracy and renew our commitment to the common good."
To learn more about Senator Klobuchar, follow her in the U.S. Senate at
https://www.klobuchar.senate.gov/public/.
To join her campaign, add your name at https://www.amyklobuchar.com.