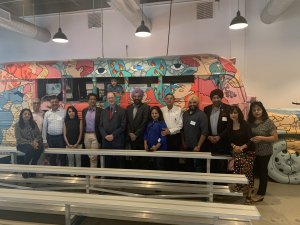 Washington D.C.: USINPAC is working closely with Congressman Brad Sherman (D-CA), co-chair of the House India Caucus and Chairman of the House Foreign Affairs Subcommittee on Asia, the Pacific, and Nonproliferation, to drive outcomes that matter for India and Indian Americans.  On October 13, 2019, USINPAC hosted a fundraiser in California for the Congressman.
Since its establishment in 2002, USINPAC has worked alongside chairs of Caucuses, Subcommittees and full Committees in the U.S. House and Senate, which have jurisdiction for issues of importance to the community.  USINPAC has galvanized support across states utilizing chapter heads to make the voice of Indian Americans known.
California chapter head Navneet Chugh said, "We are pleased to support Congressman Sherman (D-CA), who has always been a friend of India.  We encourage him to push for a permanent seat for India on the United Nations Security Council.  We believe this should be one of the major causes for Indian Americans and for the US Congress, and it is our sincere hope that in time we can achieve this goal as we work together with Members of both parties."  Chugh a community leader, and a respected lawyer with law firms all over the world.  In his role as chapter head, he is playing a critical role in helping the community move its agenda forward.
Shaun Arora, who hosted Sunday's event, said, "It was a privilege to host Congressman Sherman, particularly given that he had to evacuate days earlier due to wildfires.  We appreciate all the work the Congressman has done on behalf of our district and between India and the US.  We were able to showcase the job creation activities that take place daily at Toolbox LA, the innovation hub in his district, and this is important to us and to him."
Dolly Kapoor, co-founder of USINPAC, also expressed appreciation to Congressman Sherman for making time to be with the community despite the California fires that continue to burn.  "Congressman Sherman has shown his commitment to the community in many ways over the years, and his commitment on October 13 was no different.  Congressman Sherman understands India and he is fully aware of our community's impact in Washington.  We appreciate him."
Congressman Sherman said, "There are 4.2 million Indians in the US.  The community is one of the most affluent and politically active groups.  Coming from the biggest democracy, they understand the importance of the democratic process.  They understand the power of the vote, and their participation in large numbers in elections cannot be ignored."
"This is why USINPAC continues to make the voice of the Indian American community heard," Kapoor continued.  "Together, we have the power to bring about positive change for the greater good."
Sanjay Puri, Chairman of USINPAC, thanked Congressman Sherman as well as USINPAC officials.  "USINPAC is fortunate to have Chairman Sherman in our corner," Puri said.  "I thank him for all he does for us and for India.  He has made sure we are on record in every hearing he holds, and this is extremely important not only for historical purposes but for here and now.  The voice of USINPAC in Congress and on the record sends a strong message that our community won't be silenced when it comes to matters important to us."
"I thank Navneet for making this event so successful, and also Shaun and Dolly. Without them, this event would not have been possible.  At USINPAC, we are committed to advocacy and will continue to do everything we can to influence decisions at Federal, State and local levels of government for and on behalf of our community," Puri concluded.
About USINPAC: USINPAC is a bi-partisan organization a voice of over 3.2 million Indian Americans. We connect our members to candidates of their choice. During the 2020 election cycle, we will be hosting events across the country to make sure Indian Americans are heard. If you would like to be part of this historic effort and bring about outcomes that matter, sign up for our email updates and get involved today at today at www.usinpac.com