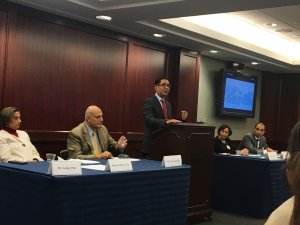 Washington D.C.:  On October 16, 2019, the Indo American Community Federation (IACF), along with Congresswoman Anna Eshoo and in cooperation with the US India Political Action Committee (USINPAC), the Kashmiri Overseas Association (KOA) and the Foundation for India and Indian Diaspora Studies (FIIDS-USA), hosted a Capitol Hill briefing on the way forward in Kashmir.
The unresolved issue of Kashmir has been a source of conflict since British India was partitioned into Pakistan and India in 1947. In the last three decades, over 42,000 people have lost their lives due to cross-border terrorism along the Line of Control (LoC) that separates Pakistan and India Kashmir. On August 5, 2019, PM Modi's government took historic action to promote peace and reintegrate India-administered Jammu and Kashmir (J&K) by removing Articles 370 and 35A, or special status for J&K. PM Modi has since called for two Union Territories in the state, with the promise of elections soon.
The briefing on Kashmir highlighted India's efforts to promote pluralism so that all communities can live in harmony. The briefing was the first on Capitol Hill to do so. Influential Members of Congress participated including Congresswoman Anna Eshoo, Ro Khanna, Mike Thompson, Zoe Lofgren, Mark DeSaulnier Dorothy Matsui and Chairman Eliot Engel of the powerful House Committee on Foreign Affairs.
Personal victim accounts of persecution were shared and a video about current life in Kashmir was also shown. Jeff Smith of the Heritage Foundation, who has previously visited Kashmir, said he was touched by the stories shared and wondered why these accounts of genocide and ethnic cleansing had not been covered by the western press, while Pakistan's narrative about Kashmir has been getting wide press coverage.
Congressman Khanna said, "I was born in the USA in 1976 and I am proud of my South Asian roots. I came to this briefing to grasp the many issues related to the Kashmiri community and I am glad I am here tonight to learn more."
Congresswoman Eshoo said, "It is a testament to this worthy cause [of the Indian American community] that we have so many Members of Congress here to support you, including Chairman Eliot Engel. I am very touched and can't believe so much torture is being inflicted in Kashmir."
Chairman Engel said, "Democratic and pluralistic communities are very much needed to live harmoniously and I commend all of you for promoting harmony across the globe."
Sanjay Puri, Chairman of USINPAC, said, "Kashmir is a very serious issue for Indian Americans. It should also be an important issue to the US, as India is a vital partner. We must continue to work together so that the future generations of Kashmir, regardless of their background or religion, have an opportunity for good education, jobs and security."
"All this happens when national leaders come together with the same vision and focus," Jeevan Zutshi, founder of IACF, said. "In this case, IACF, KOA and USINPAC came together to educate Members of Congress in hopes of making Kashmir a fully pluralistic society where all Kashmiris of different faiths can live together."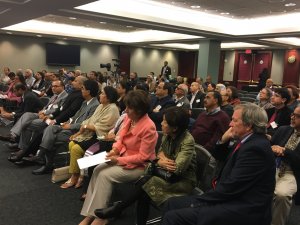 About USINPAC: USINPAC is a bi-partisan organization a voice of over 4 million Indian Americans. We connect our members to candidates of their choice. During the 2020 election cycle, we will be hosting events across the country to make sure Indian Americans are heard. If you would like to be part of this historic effort and bring about outcomes that matter, sign up for our email updates and get involved today at today at www.usinpac.com