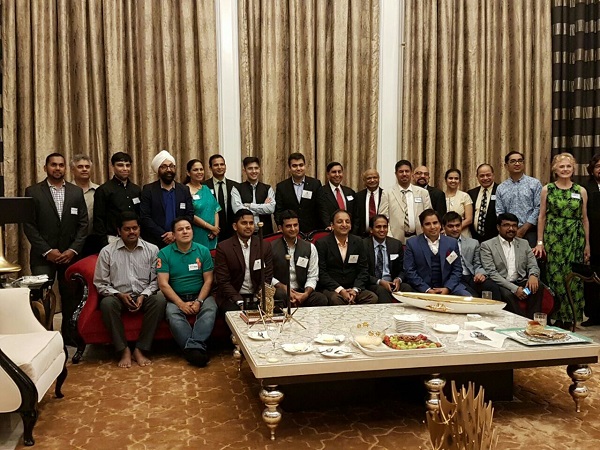 Reception focusses on trade and investment opportunities
Washington, DC: USINPAC hosted a dinner reception for a delegation of youth political leaders from India this week. The upcoming young politicians are here to learn US best practices in political and civic engagements, building political cadres and the role of media in governance. During their visit, the delegation will meet US lawmakers and discuss strategies for developing political organizations, through leadership training, organizing infrastructures, and campaigning methods, examine the role of the media, traditional and social, in political campaigning and governance and discuss challenges and impact of engaging youth in political and civic activism.
Invitees to the reception included Indian youth political leaders; Rizwan Arshad, Member of Legislative Council, Government of Karnataka, Raghav Chadha, National Spokesperson, Aam Aadmi Party, Raunaq Jain, Head, Legislative Assistants to Members of Parliament Fellowship, Vinay Bidre, National General Secretary, Akhil Bharatiya Vidyarthi Parishad, Abhishek Matoria, Member, Legislative Assembly, Rajasthan, Bhushan Penchalwar, National General Secretary, National Students Union of India, Lakshmanan Ramamurthy, Member, Rajya Sabha, All India Anna Dravida Munnetra Kazhagam (AIADMK) Party, Tanvir Sadiq, Political Secretary and Advisor to Former Chief Minister and Working President of National Conference, Omar Abdullah, Sachin Madhavrao Sawant, General Secretary and Chief Spokesperson, Maharashtra Pradesh Congress Committee, Nikhil Vyas, General Secretary, Bharatiya Janata Yuva Morcha, Mumbai, along with some distinguished Indian Americans of the region.
During the reception, USINPAC provided an historic overview of its role in the growth of U.S-India bilateral relations, the strengths and aspirations of the Indian American community and ways to foster investment and engagement with its counterparts in India. The visitors had many questions regarding the American experience in building youth cadres, job creation with skill development and renewable energy initiatives etc. Sachin Sawant and Dr. Lakshmanan spoke about the agrarian crisis involving rising farmer suicides in Tamil Nadu and Maharashtra. Tanvir Sadiq had questions relating to renewable energy, namely hydro-electric power generation in the state of Jammu and Kashmir.
Mr. Sanjay Puri, the host of the reception remarked, "India and Indian Americans should move from the myopic focus on H1B programs, instead tackle the larger forces of globalization and automation that are rapidly changing the global economic climate. We have to look to the future. USINPAC will continue to support and foster exchanges that will maximize benefits for both the US and India."
About USINPAC
The US India Political Action Committee (USINPAC) is the voice of over 3.2 million Indian- Americans and works on issues that concern the community. It supports candidates for local, state and federal office and encourages political participation by the Indian- American community. Visit www.usinpac.com for more details.