Sanjay Puri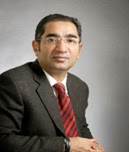 Sanjay Puri is a recognized authority on U.S.-India relations. He serves as the Chairman of the U.S.-India Political Action Committee (USINPAC), a national, bipartisan political action committee representing over 2.5 million Indian-Americans. USINPAC works closely with members of Congress from both sides of the aisle, as well as with the administration, to ensure that the community's concerns are addressed. Mr. Puri hosted the first ever U.S. Congressional India Renewable Energy Conference held on Capitol Hill, drawing on his extensive expertise in the area of US Government funding for renewable energy projects worldwide through USAID and OPIC
Mr. Puri is also the founder, President and CEO of the Alliance for U.S. India Business (AUSIB). AUSIB is dedicated to strengthening economic ties between the U.S. and India. Through his leadership at AUSIB, he formed a U.S. Congressional taskforce on U.S.-India investment and trade relations. . He regularly leads delegations of business, political and higher education leaders to India. He has also hosted two of the largest U.S. India education conclaves in 2011 and 2013 which were attended by over 100 education and policy leaders from the U.S. and over 1,000 from India.
Mr. Puri is the Founder and Chairman of the Board of Optimos Incorporated, a strategy and enterprise information technology company based in Reston, Virginia. The company was founded in 1994 through a grant from NIH and has continued to grow and provide valuable solutions to a range of clients including the Library of Congress, Federal Reserve Bank, National Archives and Records Administration, U.S. Mint, and the National Labor Relations Board
Mr. Puri is a frequent public speaker and expert witness on U.S.-India relations and the political impact of the Indian-American community. He has been featured in The New York Times, The Washington Times, on National Public Radio (NPR), the Public Broadcasting Service (PBS), CNN and Nightline.
Recent Appearances and Speaking Engagements
July 2011 – United States Institute of Peace, Washington, DC
March 2011 – Duke India Business Forum, Raleigh, NC
September 2010 – India Retail Forum, Mumbai, India
July 2010 – International Leadership Foundation Conference, Washington, DC
June 2010 – AAPI Conference, Washington, DC
April 2010 – University of Virginia, Charlottesville, VA
March 2010 – World Affairs Council, Denver, CO
March 2010 – India Conference, Harvard Business School, Boston, MA
February 2010 – National Public Radio, The Two-Way
October 2009 – International Relations Conference, Harvard, Boston, MA
May 2009 – India Leadership Summit, University of Chicago, IL
March 2009 – 13th Annual Wharton India Economic Forum, Philadelphia, PA
January 2009 – National Retail Federation Conference, New York, NY
July 2008 – Mountain States Hydrogen Bus Council's 4th Annual Hydrogen Implementation Conf, Laramie, WY
May 2008 – Tuck India Business Conference, Dartmouth College, Hanover, NH
March 2008 – Wharton India Forum, Philadelphia, PA
March 2008 – Harvard Business School, Boston, MA
February 2008 – Youth Leadership Symposium, Boston, MA
June 2007 – CNN, Paula Zahn
May 2007 – Wisconsin International Trade Conference, Milwaukee, WI
March 2007 – Kellogg School of Management, Northwestern University
November 2006 – Voice of America
July 2006 – CNN
June19, 2006 – NPR Morning Edition: Indian Americans Lobby for US Nuclear Deal
April 2006 – School of International and Public Affairs, Columbia University