Indian Americans pitch in for Katie McGinty's Campaign for US Senate
Indian Americans pitch in for Katie McGinty's Campaign for US Senate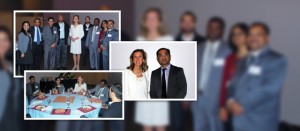 USINPAC hosts fundraiser in Philadelphia
 Washington, DC: USINPAC co- hosted a fundraiser for Democrat Katie McGinty on Friday, February 26th in Philadelphia, along with USINPAC Leadership Committee member Michael Thevar.
Katie McGinty, held leadership positions in the fields of environmental redevelopment and specialty construction, clean energy and water businesses and in equity and debt management. In 2014, McGinty ran as candidate for Governor of Pennsylvania, losing to Tom Wolf, who then appointed her his chief of staff.
Katie McGinty has spent time in India and worked as energy-research fellow at the Tata Energy Research Institute in Delhi. Having lived and worked in India for so long, McGinty adopted two infant girls, who are now 14.
The fundraiser comes close on the heels of McGinty, picking up endorsements from  Senate Minority Leader Harry Reid of Nevada, Gov. Tom Wolf, former Gov. Ed Rendell and the state's major labor unions, a rarity considering that this is seen as a wide-open, high-stakes election for the Democratic Party.
Successful Indian American businessman Mr. Michael Thevar was clear in his support for McGinty saying "Katie is important because of her roots to India and she will support India in times of crisis. She is much better than any other person running in the race as she has commitment towards India and knows a lot about it. It will be a great support for us."
 About USINPAC:
The US India Political Action Committee (USINPAC) is the voice of over 3.2 million Indian- Americans and works on issues that concern the community. It supports candidates for local, state and federal office and encourages political participation by the Indian- American community. Visit www.usinpac.com for more details.