California Attorney General Kamala Harris Files Paperwork to Enter Race for The US Senate
California Attorney General Kamala Harris Files Paperwork to Enter Race for The US Senate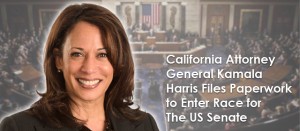 Indian American Harris Had Been Campaigning and Raising Funds for A Year Now
 Washington, DC: California Attorney General Kamala Harris on Feb 24th threw in her hat into the Senate race, by filling paperwork at the L.A. County registrar's office in Norwalk.  Harris is running for the seat being vacated by Sen. Barbara Boxer, who retires from her post at the end of her term in 2017.
Born to an Indian mother, a breast cancer specialist Dr. Shyamala Gopalan Harris and a Jamaican American father, Stanford University Economics Professor, Donald Harris, Harris is already a frontrunner, leading in the polls.
Education, the economy, the environment and equality are some of the key issues that Harris would be focusing on.  Truly connecting with the voters will be her strategy, adding "That's everything from what we need to do around continuing to fight for the rights for our LGBT brothers and sisters, to what we need to do around immigration reform, to what we need to do around protecting a woman's right to choose what to do with her own body," Harris said.
A rising Democratic star, Harris had campaigned for Obama in both his presidential bids, and Obama returned the favor by fundraising for Harris during her successful 2010 campaign to become California's first female and first minority attorney general. On her name being featured in the list of potential nominees to the Supreme Court, Harris on a recent campaign stop had declared, "I'm not putting my name in for consideration. I do not wish to be considered. I am running for the United States Senate."
If Harris wins the seat, she would be the first Indian American to ever serve in the Senate and the second-ever African-American woman.
Calling her a brilliant lawyer and a crusader for public safety, education and the environment, Sanjay Puri, Chairman of USINPAC welcomed Attorney General Harris' bid for the senate seat and vowed to dedicate the PAC's advocacy efforts in making it a successful one.
About USINPAC:
The US India Political Action Committee (USINPAC) is the voice of over 3.2 million Indian- Americans and works on issues that concern the community. It supports candidates for local, state and federal office and encourages political participation by the Indian- American community. Visit www.usinpac.com for more details.