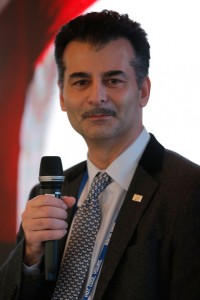 Quote
I truly appreciate the help of USINPAC and its Chair, Mr Sanjay Puri, who have mobilized support across state and constituency lines within the Indian -American community. I am touched by their pro-active engagement, am proud to serve as one of them, and am really looking forward to joining the IMF in this important role.
Biography
Sunil Sabharwal is the first Indian-American to occupy a key administration post at the IMF. He was confirmed by the US Senate to the position of Alternate Executive Director of the International Monetary Fund. Sabharwal was born in New Delhi to an Indian printing entrepreneur and his mother is of Hungarian descent. As a child, Sabharwal moved to Budapest with his mother and in 1983 they fled the Hungarian Communist regime, and received asylum in the US. Sabharwal has impressive academic credentials from The Ohio State University (OSU), London Business School (LBS) and UK's Institute of Directors (IOD).
In post-Communist Hungary, Sunil Sabharwal was instrumental in setting up the Budapest office of the European Bank for Reconstruction and Development (EBRD) and subsequently joined its Financial Institutions team in London. Sabharwal spent 10 years in private equity and mergers and acquisitions at GE Capital and First Data/Western Union, and completed numerous investments and sat on several boards. From 2011 to 2013, Sabharwal served as Chairman of the Board of Ogone, a Brussels based European e-commerce payment Services Company during which period he also launched the company's US and Indian operations.