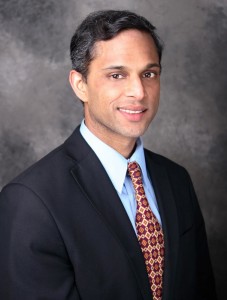 Quote
USINPAC is an outstanding organization which helped me reach out and share my vision with leaders in North Carolina. My appointment was a result of the hard work and efforts of USINPAC, an outstanding organization
Biography
Steve Rao is running for re-election as At-Large Councilman for the Town of Morrisville. Elected in 2011, he is also a Business Development executive in the technology industry and an entrepreneur, with 12 years of sales and management experience. He is also an ex-officio member of the Morrisville Chamber of Commerce Economic Development Committee.
A ten year resident of Morrisville, he resides with his wife, Dr. Komal Parekh, and their two children, Sonia and Rayan. Steve earned his B.A. in political science from Emory University, where he was a collegiate tennis player, and his J.D. from the West Virginia University College of Law. He is also a 2009 graduate of the prestigious Institute of Political Leadership Fellows Program
Today, Steve is a Business Development Manager at Alphanumeric Systems, were he manages partnerships for the company, along with driving revenue growth and helping companies reduce costs through innovative IT solutions.
From 2006 until March 2010, Steve served as the Director of Business Development at Datacraft Solutions, a global software company offering automated inventory replenishment systems to manufacturing companies. At Datacraft, Steve worked with global manufacturing companies to help them free up working capital and leverage technology to help foster job creation. Steve also managed global partnerships in India and Europe for Datacraft and represented North Carolina to the international business community every day.
Steve is the founder of TSG Academies, a sports management and coaching company established in 2004. TSG serves the sports and wellness needs of corporations, private schools, and municipalities in Wake County and also represents world class tennis coaches.
Prior to founding TSG, Steve was a Business Development Manager at MindLever.com, an e-learning company acquired by Centra Software in 2001. At MindLever, Steve and his team were leaders in the e-learning industry and he worked to develop world class standards for web-education in K-12 and corporate settings.
In 2004, Steve was appointed by Senator Marc Basnight to the State IT Advisory Board and is currently serving his third term in that role. As a Board member, Steve advises and consults the CIO of North Carolina on technology purchases and technology policy for the state.
Steve is a Charter Member of TIE Carolinas, a global mentoring organization for entrepreneurs and is committed to increased state and county investment in small businesses to spur job creation. In 2007, Steve worked with the TIE Carolinas leadership to help organize a Business Mission to India and has developed relationships with Indian multinationals looking to invest the Southeast United States.
In addition, Steve serves on the board of NC REAL, an organization which focuses on entrepreneurial development in rural North Carolina. Steve also served as the past President of the Indian American Forum for Political Education, and was a founding member of the North Carolina Indian Political Action Committee, NCINPAC, the first Indian American PAC in North Carolina history.