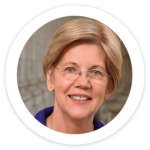 Elizabeth Warren was elected to the U.S. Senate in 2012. She represents Massachusetts.
She is a graduate of the University of Houston, and Rutgers School of Law. She serves on the Committee on Banking, Housing, & Urban Affairs; the Committee on Health, Education, Labor & Pensions (HELP); the Special Committee on Aging; and the Committee on Armed Services.
In the aftermath of the 2008 financial crisis, TIME Magazine called her the "New Sheriff of Wall Street" for her oversight efforts to hold Wall Street accountable and protect taxpayers.
During her campaign for the Senate, she promised to fight for middle class families. She also called for policies that would level the regulatory playing field for small businesses.
To learn more about Senator Warren, follow her in the U.S. Senate at here
To join her campaign, add your name at here