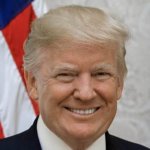 President Donald Trump is the 45th President of the United States. Before entering the world of politics, he was a successful businessman, real estate mogul and television personality.
President Trump was born and raised in Queens, New York City. He attended Fordham University for two years and received a bachelors degree from the Wharton School of the University of Pennsylvania. He became president of his father's real estate business in 1971 and expanded its operations to building or renovating skyscrapers, hotels, casinos and golf courses. President Trump also started various side ventures and hosted the reality tv series "The Apprentice" from 2003 – 2015.
President Trump's re-election campaign has focused on the economy, jobs, immigration and foreign policy. Keeping America great is President Trump's goal as he works to implement his America First platform, continuing his promise to the American people to lower taxes, repeal and replace Obamacare, end stifling regulations, protect our borders, take care of our veterans, strengthen our military and law enforcement, amongst other initiatives.
To learn more about President Trump, or to join his campaign, visit here